"Just as they have not found a replacement for the umbrella, they have not found a better object when it comes to the pen."
Quotes
"A young person learns for two years from the elder craftsman in our company. That's the key."
"We started from a mere three percent of exports and now we are exporting around eighty percent of our production."
"The pen has proven itself many times. Like when the first computer arrived, when the first digitalization happened. I think it's going to survive. It's like wine. You don't have to get drunk, just take a sip and enjoy."
"I have seen such a variety of colors, of people, of languages. I would say that somebody who wants to take something from India to another country should put this together. Make sure it is made by hand – don't take the mass market approach."
Summary
It is important to pass on the learnings from experienced workers to inexperienced youngsters in order to sustain the growth of any business.
The pandemic has given new life to the pen. People have rediscovered the joy of penning the word for a personal touch.
Dr Cesare advises Indian businessmen and startups to produce and export value and quality, rather than quantity.
Technology can be duplicated for mass production, but exclusivity remains unique. Businesses should concentrate on unique products which stand apart.
To talk about the fascinating topic of international business based on Italian craftsmanship I invited Dr Cesare Verona, President and Ceo of the Italian company Aurora Pens, which is the international leading manufacturer of highest quality writing instruments.
When I asked Dr Verona to introduce his company, he replied, "2008 was a challenging year. Remember Lehman Brothers? I bought back the company from my father, my mother and my sister, becoming the sole shareholder of the company. The company has an incredible heritage, but needed some tuning. The first few years were difficult. We restructured, rethought the value chain, changed the mentality of people, redesigned and digitized production. The most difficult part was to change the mentality of the people."
How did he manage to train his crafts people and cultivate the right mindset in them because they are artists at the end of the day, I asked. "When I arrived, the average age was around 55 to 60. So we had a lot of experienced people but we had no young people to pass on the experience to. Now the average age in Aurora is around 35. The idea is to blend the old and the new. How to make fewer mistakes, what are the tricks of the business. A young person learns for two years from the elder craftsman in our company. That's the key."
With such a narrow and niche market, how did Aurora achieve such a spectacular growth in exports, I asked Dr Cesare. "When my father passed on the company, he said with digitization, our product would have no market. But I told him I was looking at a different positioning. It was a lot of hard work to put together the beauty, quality, storytelling, craftsmanship, which helped us to tell the story of Aurora pens. We started from a mere three percent of exports and now we are exporting around eighty percent of our production. Apart from Italy we have about 25 percent going to Europe, and about 50 percent to the Middle East and Far East, and the remaining to America. So we are well balanced. But we still have a lot of markets that we would like to reach.
The grandfather of the digital age Marshall McLuhan once wrote that every innovation makes something obsolete, but also brings back something else, something new. How did Dr Cesare see the role of fine instruments in times when people communicate by email and text messages? "I always say that just as they have not found a replacement for the umbrella, they have not found a better object when it comes to the pen. In fact, the pandemic has proven that people love to write. Aurora is sponsoring a literature contest, and now we have three to four times the usual attendance. It has made people realise what is important in life and so people have started to write a lot more than before. The pen has proven itself many times. Like when the first computer arrived, when the first digitalization happened. I think it's going to survive. It's like wine. You don't have to get drunk, but just take a sip and enjoy."
Dr Cesare is also involved in the Sign Museum which is dedicated to writing and signatures, and when I asked him to elaborate on this initiative, he revealed, "It's called Officina Della Scrittura, which means the craftsmanship of writing. It was a crazy idea that I had in mind before joining the company. I wanted to create something which allowed you to follow the concept of time. The idea was to give back to the city, to the people, to the lovers, since I have been more fortunate than others. I said to myself since I'm also a collector why should I keep my collection inside my house or inside a bank? So in Aurora we have created a large museum of four thousand square meters where all the schools can come and understand how the sign was born – from the moment men put a picture of their hands on a rock or the inside of caves. There is a part of the history and heritage of Aurora but there is also an art gallery where we support artists. There is an area where we have a restaurant, an area to do a presentation of books. It's like a small city where people come from Korea, New Zealand, just because they have a passion for writing. More than thirty thousand people have been coming by paying a ticket and getting an official tour. I'm very happy and proud about this."
India has a growing luxury goods industry aimed at both domestic and exports. What advice would Dr Cesare give to Indian companies in this sector where there are a lot of indian craftsmen and niche products which are looking for an external market? "I would put history and heritage first," advised Dr Cesare, "Because you have craftsmanship, you have jewels, you have the Maharaja. You have the story of beauty in your country, you have colors and you have variety. I've been driving through India by car and I have seen such a variety of colors, of people, of languages. I would say that somebody who wants to take something from India to another country should put this together. Make sure it is made by hand – don't take the mass market approach."
In India, we have about 6 million startups which are really really hungry for growth, hungry for technology, hungry for finance, for niche products. They want to expand to global markets. What advice would he give to them to really excel in what they're doing? "I see that many of the startups have the same idea – of sharing a service or an area and using technology to make it accessible to the masses. I would rather make a pen of 300,000 euros, and make only one rather than a million. Technology helps you scale up but technology is available to everybody, so there is a lot of competition." You need something exclusive to capture the market, to stay ahead of the competition, is the gist of what Dr Cesare advised.
About the speaker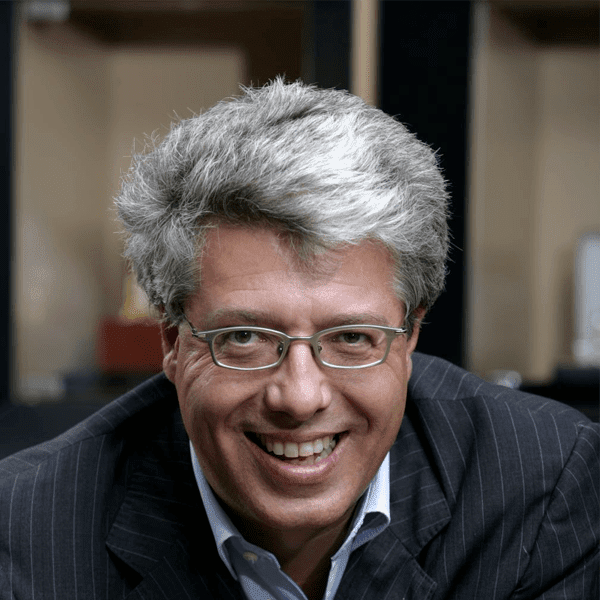 Cesare Verona
President and CEO, Aurora Pens