"The pandemic has given us a chance to stop and reflect. It has made us re-evaluate what is absolutely necessary and what is not."
Quotes
"I believe that if we take care of employees, they will take care of clients."
"Rather than go after the same pool of resources that everybody is fighting for, we would rather take people who have no knowledge and grow them into what we need."
"Never tell yourself I can't do it. No matter how good a support system is, it can break, and that is when your legs need to support you. Don't give up, and people will come around to your way of thinking."
"I have seen such a variety of colors, of people, of languages. I would say that somebody who wants to take something from India to another country should put this together. Make sure it is made by hand – don't take the mass market approach."
Summary
The IT industry is always facing a shortage of good resources but there are companies which are trying to fill in this gap
Companies like SnapIt Solutions are training and producing talent that the industry requires by focusing on job specific education
Lower academic education need not be a deal breaker, since job specific training can produce the ideal candidates for the IT industry
Countries like India need to develop a more professional approach. Employers should look for diversity and employees should look for out-of-the-box ways that you can get them in.
Women need to build their own support system and this can be done quicker with training provided by companies such as SnapIt Solutions, since it helps them stand on their feet quicker than a formal education.
India Power Talk celebrated its first anniversary recently and the first topic of the new year is high-tech landscape changes and the impact on talent gap. It was a singular honor and pleasure to talk to a guest who has accomplished truly remarkable results in this challenging field, Neelima Paraskar who is the founder President and CEO of SnapIT Solutions, a company that provides top quality IT and software development services to companies on one hand and fast track job training to professionals on the other.
When I asked Neelima what inspired her to incorporate SnapIT Solutions, she replied. "I started my technology career back in 2000. I've been in Fortune 500 companies like IBM and enjoyed quite a bit of the work I've done, but over the past two decades that I've observed the technology industry, there'd been many waves back and forth especially in the talent that we received. While leaving IBM I had about 200 to 225 resources reporting to me globally. The biggest issue we faced always was talent. There was a lot of money left on the table because resources were not able to deliver projects on time. And if we do find good resources there's always the risk of losing them to another competitor. SnapIT Solutions has various divisions. We have a custom training centre for those who want to get into the Hi Tech industry and we train them for 3 to 5 months and they get certified. Then we have a division which requires such talent and we scout from the students we have trained and we offer them a job if we find there is a fit."
So does it really mean that the traditional universities are now obsolete, I ask. "Even with universities going full swing they're only able to satisfy 25 percent of the demand. Kauffman Foundation is one of the bigger foundations in the world and they state that seven out of ten kids here in the United States are not going to university. On the other hand a lot more students don't have access to education in countries like India and Africa. These students are smart and we augment university education or almost replace it in a certain way for students who are not able to go universities."
So graduation was not required to enrol as a student of SnapIT Solutions? And would she say SnapIT connects the industry and academia? "We train students who have completed their intermediate, meaning 10+2 at least. And yes, we invest a lot in our students and 90 percent of them get through."
So would Neelima say that companies like SnapIT Solutions are required as a go between between universities and industry? "SnapIT provides training before the apprenticeship. It takes about a year for somebody to come up to speed. If somebody's already spending four years of bachelor's and two years of masters, their curve to get to industry is probably around three to six months based on how quickly they catch up with the industry because they're learning a little about everything. But somebody who's not gone through the six years will finally require only one or two skill sets that the job demands. Having said that, education never ends, especially in a field like technology, and that's what we provide."
How has SnapIT Solutions responded to the pandemic and how is her organization benefiting local communities? "We have been working entirely from home," says Neelima. "It was tough since we have invested so much and we are a small business. Employees' health was the highest priority. The second priority was clients. I believe that if we take care of employees, they will take care of clients. Initially there was a lot of turbulence, but we made a comeback and in the fourth quarter of 2020, we made almost as much as we made in the whole of 2019."
Did Neelima feel that the pandemic would permanently change the way we live and work? What lasting effect would it have on work culture? "The pandemic has given us a chance to stop and reflect," pointed out Neelima. "Especially for the young adults who are used to going out and meeting friends and associates. It's been hard on them. But the pandemic has made us re-evaluate what is absolutely necessary and what is not."
What motivated Neelima to take the bold approach towards training? "There are a lot of wrongdoings when it comes to interviews today," explained Neelima. "People are using augmented reality. People give fake resumes, and only after two to three months do you realise that they don't know anything. Rather than go after the same pool of resources that everybody is fighting for, we would rather take people who have no knowledge and grow them into what we need."
I believe that there is always going to be a gap between the resources required by the industry, and what universities are capable of generating. Meanwhile there are companies which require new technology but there are no people who have that kind of training yet. So SnapIT fills that gap. By building the ecosystem, SnapIT is really doing a great service to the industry.
The interesting question is, can a business model like Neelima's be replicated in India? What advice would she offer? "For countries like India they need to develop a more professional approach. Employers should look for diversity and employees should look for out of the box ways that you can get in. There is not only one path to your destination."
What would be Neelima's advice to girls in India. Today, they have a choice of pursuing academics and then a suitable job, or they can take the bold approach of following their heart and train on advanced technologies and pursue their career. "Never tell yourself I can't do it," is Neelima's advice. "No matter how good a support system is, it can break, and that is when your legs need to support you. Don't give up, and people will come around to your way of thinking."
About the speaker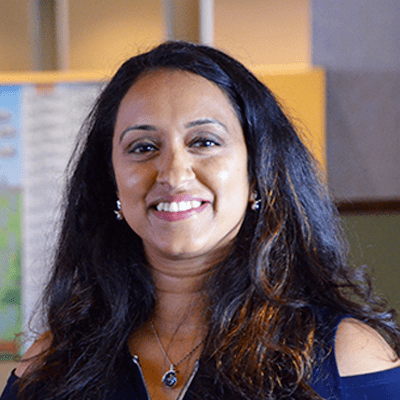 Neelima Parasker
President and CEO, SnapIT Solutions