Quotes
"India's time to be a global leader particularly on economic issues is arriving and maybe in some ways has arrived."
"We (Word Trade Centers) exist to try to make doing business around the world as easy as it is to do it across the street."
"Utah companies recognize the potential (of collaborating with Indian companies) but there are a lot of regulatory issues and it can be difficult bureaucratically."
"The challenge (for small companies) is oftentimes they are so focused on getting the business going that sometimes it's hard for them to take a step back and look at the bigger picture, to try to see greater marketing opportunities."
Summary
There are 330 World Trade Centers around the world.
The primary objective of World Trade Centers is to enable ease of doing business between countries.
They help big companies connect with each other, and help small companies break into new territories by providing marketing insights, key connections and other helpful pointers in the new markets.
Utah is America's newest economic powerhouse with the youngest workforce in the country.
Both Utah and India-based companies can gain a lot by collaborating with each other.
The industries and service sectors in Utah have developed far ahead of the national average.
Utah companies recognize the potential in India but there are a lot of regulatory issues and it can be difficult bureaucratically.
The great thinker and humanist Buckminster Fuller said in one of the world's most quotable quotes, 'Think global, act local.' And this is exactly what our topic is all about: Utah, America's newest economic powerhouse. Our guest today is extremely experienced and has high credentials to provide deep insights into this topic – Miles Hansen, President and CEO of the World Trade Center, Utah.
Miles is uniquely experienced to shed light on today's topic because he is well travelled in the course of gaining rich cultural and international experience across various parts of the world. He was a missionary in Russia for two years, did his university in Utah, did an internship in Kyrgyzstan, travelled to Central Asia, studied Farsi in Brigham, which took him back to Tajikistan to do a year-long Farsi program. He ended up going to graduate school in Washington DC and did a program where the state department paid for his graduate school in exchange for a service commitment post where he had an opportunity to work in Iran, Dubai and Armenia for several years. He spent some time in Washington DC doing counter-terrorism work, then went back to Saudi Arabia where he learnt a little Arabic, and then ultimately he was back working at the White House on Middle East issues before he came back to Utah to work at the World Trade Center Utah.
Utah occupies a special position as one of the most economically successful states in the US. I asked Miles how this came about and what he thought were the main contributing factors. "There are some parts of the state that have an unemployment rate of less than two per cent and the state overall is less than three per cent," revealed Miles. "You can boil it down to three primary factors. One, starting with a government perspective, here we don't believe that the government drives economic growth, but the government certainly can create a framework and in Utah, we have a very unique and constructive approach to politics. We have a constructive political environment and what that allows us to do is to be very pragmatic to solve problems, to create this framework of collaboration in which the private sector can really thrive. Another factor is that we have an incredible innovative workforce, the youngest workforce anywhere in the country. We have great universities. We have this belief here in Utah, it's part of our DNA, that we can go out and do anything. I'm interacting with companies all day, every day and it's fascinating because you have small little companies that have the same combination of vision for global influence and success as well as that grit and willingness to work very hard. You put those two things together and you end up with these companies that are doing incredible things and they operate within this government framework to be very successful. And then the last factor is how global-minded people here in Utah are. We speak 130 languages, more than anywhere else in the nation. We have more people who have lived in other countries per capita than anywhere else in the country. There is a tradition of young people leaving home right after school to go live in other parts of the United States and other countries to gain a greater perspective. They then come back just like me, changed and have a very strong desire to engage with the rest of the world."
Elaborating about Utah's robust economy, Hansen added, "The industries and service sectors have developed far ahead of the national average. If you look back 30 or 40 years, Utah's economy was very much dominated by extracting natural resources, but now we have the most diversified economy in the United States. We are succeeding in virtually every industry, a few key ones are aerospace and defence. We also have a very strong healthcare innovation or life science industry, a good software industry and a great collection of consumer product companies."
The World Trade Center, Utah, is very active and under his leadership has been doing some great work, I commented. "The World Trade Center, Utah, is a private organization," Miles said, "We are one of 330 World Trade Centers all around the world and in fact, we've done quite a bit of work with World Trade Center, Mumbai, which is our partner organization. We exist to try to make doing business around the world as easy as it is to do it across the street. We work hard at building this great global network and great expertise with our partners around the world and then we take that and we focus it on figuring out how we accelerate growth for Utah companies and for the companies that we're working with in different parts of the world. Our purpose is to help companies increase their international sales, attract investment where that's helpful and then in the process, we're just out there helping our partners around the world recognize Utah as a global hub for trade and investment and international business."
How did the World Trade Center Utah maintain its global connections, I inquired. "We are constantly interacting with our partners across the state of Utah and around the world and as we're doing that we are very deliberate to say we need to be building partnerships," revealed Miles. "For a partnership to work it has to be mutually beneficial, it has to be grounded on action and activity. This benefits both sides and it's just a standard networking process but we want to make sure we have very strong networks with our partners around the world and we do that by making sure that we are very active in engaging with our partners and potential partners and that they can trust us as an organization that is focused on action and generating value for both sides."
Miles Hansen's organisation recently held a virtual trade mission with the World Trade Center Mumbai where they connected more than 100 Utah-based companies with potential Indian partners as well as Indian government officials, and economic experts. "India is such a tremendous country, with so much human capital, such a large market and it is growing very very quickly. India's time to be a global leader particularly on economic issues is arriving and maybe in some ways has arrived. From the World Trade Center Utah perspective, what that means to me is that we have to be focusing on really understanding the Indian market, building our network of partners there, and helping to communicate that to our Utah companies. Utah companies recognize the potential but there are a lot of regulatory issues and it can be difficult bureaucratically. The market in India is fragmented so it can be challenging, it can be a little scary. Our role is to make sure that we understand that market. We can help reduce the obstacles for Utah companies either to sell into the Indian market, to produce in India and to sell in India, and to produce in India to sell elsewhere in the region or around the world. At the recent virtual trade mission, we had the opportunity to partner with the US embassy in New Delhi, with World Trade Center Mumbai, with IBM. We had the Chief Economist of IBM join us as well as the development commissioner for the provincial government around Mumbai to provide a bit of a broader perspective. It was so important to have these different perspectives from a US embassy perspective, from a World Trade Center perspective, a provincial government perspective, and then IBM's perspective. We used all of that to help our Utah companies gain a deeper appreciation of how to do business in India. We had many people who wanted to follow up and have additional conversations – companies that are now pursuing business opportunities and I see that trend continuing and accelerating. This is why connecting is so important and why this is going to be an area of focus moving forward for World Trade Center Utah."
India is the home of a lot of family-owned companies, a lot of startups, a lot of small companies. How can they work with companies from Utah? "In any country, startups and family businesses are often the backbone of the economy and what we find is they typically start as being local companies but then over time they grow and after a while, they can become some of the largest, most influential businesses and continue to be the bedrock of the economy. The key is to focus on how to help them go from the startup phase and grow to become very large and successful companies. What we have found in Utah is these family-owned businesses and these startups often have very similar values. They want to grow, they want to succeed, they want to innovate. They are lean and are hungry and they are highly motivated. The challenge is oftentimes they are so focused on getting the business going that sometimes it's hard for them to take a step back and look at the bigger picture, to try to see greater marketing opportunities. That's what we find ourselves doing a lot. We say, let us come in and just spend a little bit of time understanding your business. You keep focusing on growing your business but let us go and try to find some market opportunities. Let us go in at a very low cost with no distraction to the business, and help you put together a market-entry strategy and then let us go and line up some meetings to see if we can help you break into another market. Companies that engage in international trade grow faster, create jobs quicker. If anybody is interested in learning more about what we do, they can go to our website www.wtcUtah.com. We've got some great information there."
Moving on, the recent withdrawal of international coalition forces from Afghanistan has created a very fluid and worrying situation. What did Miles feel the international community needs to do to achieve some degree of stability? "I know people all around the world have had a wide range of emotions over the past few months as we've seen this incredible human tragedy and the national security failure taking place in Afghanistan. It makes me think back to the time that I spent in Afghanistan. I have been deeply critical of the Biden administration which completely rejected the common sense approach to having a very simple but focused plan to manage a transition that would give the Afghan government the opportunity to thrive. We could have avoided this heart-wrenching human tragedy that's unfolded over the past few weeks. It's okay if you want to end the combat role but first off you need to get all the heavy equipment out. I've seen reports that talk about $ 80 billion worth of equipment left behind by the United States in Afghanistan. And now the Taliban has control over very sophisticated equipment. First, get the civilians out, both American citizens and enable other countries, India included, to get their citizens out. Then make sure that we fulfil our moral obligation to the Afghans. They worked with us for 20 years and now are in extreme danger."
About the speaker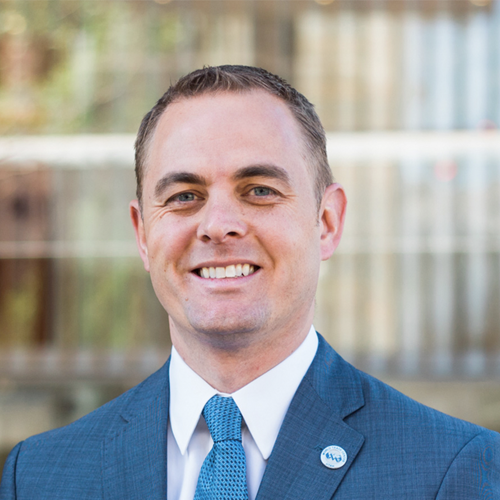 Miles Hansen
President and CEO, World Trade Center, Utah