"India is going to lead the 21st century."
"The potential for Artificial Intelligence is around US $883 million by 2023. So Artificial Intelligence is going to lead the way."
"I would like to see our Water Resource minister lead the world in this global water crisis we all are facing."
"I think you have to be bold and beautiful when you are dealing with American companies."
Summary
NUICC's mission is to promote bilateral trade and investments between the United States and India and other parts of the globe.
NUICC serves the small, medium and large corporations with government and business relationships that result in business deals.
There are lots of opportunities for bilateral trade between India and the US in the fields of Artificial Intelligence, Defence and Aerospace, Auto (electric cars and batteries), technology transfer, medical equipment manufacturing, water and waste management, Cyber Security and Exports.
In order to be successful, American and Indian companies need to do their due diligence before engaging in commerce as the two cultures are quite different.
Today we will talk about trade between India and the US. On this International Women's Day, to discuss US-India commerce and how best to support it we have with us, Dr. Purnima Voria, founder and CEO of the National US-India Chamber of Commerce. Its global headquarters is in Denver, Colorado, from where it serves all the 50 states of the US, while its Asian headquarters is in Jaipur, Rajasthan, India. NUICC's mission is to promote bilateral trade and investments between the United States and India and other parts of the globe. NUICC serves the small, medium and large corporations with government and business relationships that result in business deals.
I asked Purnima to tell us how NUICC was founded and she revealed, "The National US-India Chamber of Commerce was born by the wish of the senators, congressmen, mayors and business leaders in the United States. But the most important person I owe this to is the Vice President of India, late Shri Bhairon Singh Shekhawat. He inspired me, encouraged me, and gave me his blessings. I see India as Incredible India, a royal India coming from Rajasthan. I wanted to show India through my eyes. And also show the business opportunities."
Commerce between India and the US is strong and has a great future potential when the world economy begins to bounce back from the downturn caused by the pandemic In which sectors did she see the greatest growth potential between India and American commerce, I asked Purnima. "India is going to lead the 21st century," Purnima predicted. "Our Prime Minister who is such an able leader (and I'm a big fan of his) has created these opportunities for India. He has said the potential for Artificial Intelligence is around US $883 million by 2023. So Artificial Intelligence is going to lead the way. When you talk about opportunities, there are Defense and Aerospace manufacturing opportunities. Our Chamber did that with Minister Shri Patnayakji, the Minister of State. And we brought companies that have all these fancy all new high-tech technologies to help India manufacture defence products. And you know that water and waste management is a need of India. It's a global crisis. I would like to see our Water Resource minister lead the world in this global water crisis we all are facing. So that's another opportunity. Auto industry is another one. India is already manufacturing a lot of auto parts but I think electric vehicles, batteries, charging stations, you name it. And every city can become a smart city. The United States wants partners in India and India wants to make it big. So technology transfer for that reason is an opportunity. Cyber Security is another area. You have seen that a lot of multinationals were hacked including federal agencies of the United States. This is a serious concern. I think India can step up and help with Cyber Security. India can manufacture medical equipment, which is being imported currently.
"Exports are a priority of the Indian Prime Minister. Converting districts into export hubs and import substitution are most popular and important in India. The whole export infrastructure – institutional and physical – have been developed even at the district level. District export promotion committees have been set up. I know about this first hand from Rajasthan. I think my friend P R Sharma is leading there and he is one of the Rajasthan export industry experts. Action plans at the District level have been prepared. Similarly, state and national export strategies have also been prepared. This is the first time in India that such an initiative has been taken up right at the grassroot level. Indian products are being patented, tested and R&D infrastructure is being developed."
What key advice would she give to the American players looking to enter the Indian market? "First of all, there are a lot of things American companies must do when they enter any country," she warns. "In India they have an advantage because India has English as its language. US companies must first do their due diligence, and find the right partners. I feel that they really need to consult with somebody that they can trust and usually they come to us because we are a resource hub for them. They ask us to help them do the due diligence, find the right partners, set up all the appointments, do the trade missions to India with them. Before they even think of India they should discuss the pros and cons. India is a good market for them. That's one thing. They need to go to the person who can facilitate those connections – that's the second thing. I would say that they should attend the programs that are held by our chamber. We always have our events at the Ritz Carlton and we want to educate people before they go on to India."
What did Indian companies need to understand about the US market to succeed there and what advice would she give to the Indian companies who wish to establish offices in the US? "I would give the very same advice to them as well," Purnima replied. "Go to somebody who knows what they're doing. For example, I've been here in the United States for 45 years. I know the cultural nuances. I know what works, and what doesn't. Americans don't care about building relationships. They'll most of the time never invite you to their home, never tell you about their wife, their children. Many people are disappointed because they don't do their due diligence. Be ready to pay a consultant who can help."
In her work with companies seeking to cooperate, I asked Purnima what cultural issues had she experienced particularly and how could we best overcome these issues. "I think you have to be bold and beautiful when you are dealing with American companies," she replied. "Most of the time I notice when I come to India, when I'm talking to people they don't look me in the eyes because that's our Indian culture. It's seen as flirtation, so people tend to look here and there. I have a hard time because I faced the same thing when I came to the United States which is so completely opposite. I have to tell people it's okay, you can look me in the eyes and talk to me because again I can't trust you unless I see that in your eyes."
There is a large body of research showing that female business leaders have very strong characteristics and success rates, but in both India and the US girls and young women are all too often discouraged from entering business. What can these societies do to improve that situation? "To people in the US I would say get used to the woman. To Indians I say take women seriously. I would say let's not portray ourselves as victims of circumstances or time or place or workplace. Let's not talk about gender. We can talk about gender inequality, we can talk about the percentage of leadership roles which need to increase, we should talk about disparity among coloured people. It's good to talk about it, good to always keep those things in the news, but let's not paralyze ourselves. Make it a purposeful situation. Let's create a purpose in life and let's lead ourselves because no one can do it for you, only you can. Believe in yourself, be yourself," says Purnima before signing off.
About the speaker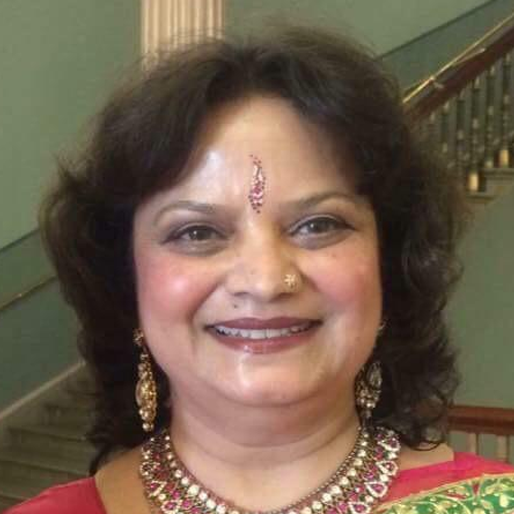 Dr Purnima Voria
Founder and CEO, National US-India Chamber of Commerce