"COVID has shocked our cities and our transport infrastructure system. Because of the long lead times for infrastructure projects, the only way our infrastructure has been able to respond is operational." – Mihir Benison
"At the moment, in India we have 41 vehicles for every thousand inhabitants compared to 471 in the UK and 838 in the US. You can see the scale of the difference there."
"The streets need to be designed for people. As we think about the recovery from COVID and the shift towards zero net carbon, this becomes important."
"Flying cars would be good for areas where there isn't sufficient public transport provision. I do not think this should be encouraged within cities."
Summary
Low carbon modes of transport should be encouraged.
Active provision and space for railway lines or bus routes, or cycle routes, is important from the start, as it becomes extremely difficult to weave them into the urban structure at a later stage.
Flying cars may not be good for congested cities but will work well in remote areas where normal transport is unavailable. They can also be used for faster delivery.
What is tending to happen is people are starting to think about moving away from city center locations into suburbs.
Today's topic is the future of public transportation in cities. The top three transport challenges are congestion, stretch, and cost. These complex issues require responses that are both strategic and creative. And to talk about this, we spoke to Mihir Benison from London, a senior transport and city planner in the UK.
What can Indian cities learn from the UK and the rest of the world when it comes to transport and city planning, I asked him. "I think the biggest lesson India can learn is to think about growing cities in a human-centred way and think about what streets should be for," Benison replied. "The streets need to be designed for people. As we think about the recovery from COVID and the shift towards zero net carbon, this becomes important. We want to have cycling, walking, etc., at the top. We want to promote this as the low-carbon and healthy way of getting around our cities, particularly for shorter journeys. In the longer term, we also need to think about how we value pedestrians. Giving more street space to people has resulted in many greater levels of footfall in our town centres. People spend more time as well in those locations."
Will the rising car ownership impact Indian cities, I want to know. "At the moment, we have in India 41 vehicles for every thousand inhabitants compared to 471 in the UK and 838 in the US," reveals Mihir. "You can see the scale of the difference there. But if we start approaching similar levels of ownership as the UK and the US, then the impact could be massive."
How should India tackle congestion on the roads, I asked Mihir, and he replied, "We need to think about how we can make cars less attractive. What do we have available? We have things like taxation, restricting or banning vehicles, increasing the cost of motoring, etc. Using these and other ways to make it less convenient overall might be helpful."
My next question to Mihir is, given the need and urgency of public transportation, how can we create and deliver attractive and safe public transportation and active travel networks? "We need to go back to the basics and create an attractive transport network. Some of the decisions taken in the early stages are crucial, and if we don't allow the active provision and space for railway lines or bus routes, or cycle routes, it becomes extremely difficult to weave them into the urban structure."
How is technology changing the world of transport? "Google maps for instance and the live information we have available on our phones now. TFL has been a pioneer in this by creating the Oyster Card in 2003. It's a contactless payment card. It can be used across buses, tubes, etc. Bike rentals and micro-mobility are also becoming quite big across our cities. E-scooters, which the UK banned are starting again on a trial basis. Uber and other sorts of models are interesting in a more regulated way."
One interesting question I have for Mihir is, are we approaching a breakthrough in terms of technology for flying cars? "It depends on where we see their role," he replies. "Flying cars would be good for areas where there isn't sufficient public transport provision. I do not think this should be encouraged within cities. In China, Dubai, and the US, people have to get from the ground level to their apartment, which might be on the 50th or 60th floor, and flying vehicles might take them less time to reach there. We need to think of a network that exists at the ground level, which is already quite developed in a lot of cases. Complimented by a network that exists on the tops of the buildings allowing deliveries to happen more efficiently. Amazon can deliver parcels much more easily on the tops of buildings this way."
What could be the long-term impacts of COVID on transport networks, I asked Mihir. "I will start by saying COVID has shocked our cities and our transport infrastructure system. Because of the long lead times for infrastructure projects, the only way our infrastructure has been able to respond is operational. Timetables have been changed, longer trains or shorter trains have been provided. In the UK, train operators are reducing services by 50% to 60% in the current lockdown. In the long term, there are likely to be some permanent changes to our behaviour. In many cases offices are shut, we are working from home. This is going to result in us permanently changing the way we live, work and move around. In the short term, we have seen increases in demand for private vehicles in the UK. The value of used cars, in a lot of cases, has gone up in India. I can imagine this is true across the world. It's predicted between 30 and 70 per cent of staff will either work remotely or in a hybridized way, i.e, part of the time in the office and part of the time at home. It's going to change the demand profile for how we use public transport. It will change how we occupy our cities. What is tending to happen is people are starting to think about moving away from city centre locations into suburbs. In areas of gardens, more green spaces. But also, if they're not having to commute every day, they choose to move to a different city. The demand models that we were using to plan our infrastructures are now completely out of the water. We don't know for sure whether we need to build that new railway line or widen that road. It's causing some challenges there. We may need to procure different types of rolling stock on the railway or new types of buses that allow you to flex how people occupy those vehicles. As the transmission number changes, you might need to introduce social distancing at short notice. But the current rolling stock and current vehicles don't allow that. One particular area where we need to have more integration is in how we invest in digital infrastructure. In some respects, the Zoom call as we are on now has replaced the need to travel. How do we pitch the investment in fibre-optic cables against a new motorway for instance? That needs to become far more integrated."
About the speaker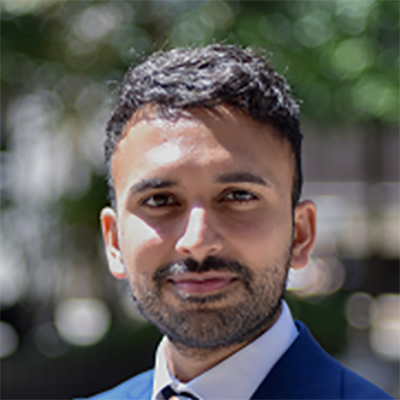 Mihir Benison
Senior transport and City Planner at Arup