"India is capable of creating affordable excellence better and 10 times cheaper!"
Quotes
"The world is in a reset mode. This is an opportunity for us to look back and reinvent and reimagine everything of the new world."
"You have to believe in Science. It will come to the rescue because science creates solutions by which we'll be saved."
"Today we call ourselves the pharmacy of world generic drugs. We are the biggest supplier to offer generic drugs of very high quality which are very lowly priced. The entire base was created by CSIR."
"Low cost is our specialty but unfortunately that doesn't get counted in the global innovation index. When it comes to affordable excellence, we are at the top."
Summary
Scientists and innovators have responded superbly to the COVID-19 pandemic by creating affordable ventilators, cheaper ICUs, PPEs, etc., and this has been possible because of the efforts of both the public as well as the private sector
The younger generation of SMEs and MSMEs have contributed well by giving their ideas and innovations to fight the pandemic.
CSIR has been responsible for a huge number of innovations through its various departments, creating faster COVID test kits, better ventilators, and test labs.
We need to trust Indian innovators and give them a chance to prove themselves, rather than importing the same products.
To talk on the current state of innovation in India and the role of Indian scientists, I invited the premier architect of India's science and technology vision and mission and renowned expert in polymer science and engineering – someone who has been honored with doctorates by 42 global universities, Padma Vibhushan Dr Raghunath Mashelkar.
The coronavirus pandemic has caused unprecedented damage to both lives and livelihoods. Years of gains have been wiped off in just a few days. The poor have been the hardest hit. We are all looking at an economic recovery but equally important is not just the recovery but reimagining and reinventing the entire economy, environment and education. In this entire process innovation is going to play a major role to start with. In this context, I asked Dr Mashelkar about the severity and impact of the coronavirus pandemic worldover. "If you look at just the second quarter of the financial year, I would say in around a hundred days almost a hundred million people plummeted from poverty to extreme poverty," he replied. "In just 100 days 450 million jobs were lost. In just 100 days 1.6 billion children went out of school and online learning, working from home, schooling from home became the norm. The total cost to the economy is $16 trillion. The world is in a reset mode. This is an opportunity for us to look back and reinvent and reimagine everything of the new world."
How has the scientist community, the technologists responded to it especially with reference to India, I ask, and Dr Mashelkar expounds, "You have to believe in Science. It will come to the rescue because science creates solutions by which we'll be saved. For example at the beginning of the pandemic look at India. Our diagnostic capacity was close to zero as far as COVID-19 was concerned. And just see the dramatic change. In March we were importing PPEs, but by July we were exporting 2.3 million PPEs. It was the scientists, the technologists, the innovators, the public sector as well as the private sector coming together. For that matter look at vaccines. The whole world is in the race. There are some 30 candidates out of which three are at phase two and phase three in India."
Talking about the Council of Scientific and Industrial Research (CSIR) which he has led for a record number of 11 years, Dr Mashelkar adds, "CSIR is a powerful organization because it has a rich scientific and technological base. We have laboratories with diverse disciplines, diverse capacities. We have a track record of having done great things for India, like for example the green revolution would not have taken place if there were no pesticides, insecticides and herbicides. And 70 percent of what was used was created by CSIR. Today we call ourselves the pharmacy of world generic drugs. We are the biggest supplier to offer generic drugs of very high quality which are very lowly priced. The entire base was created by CSIR. The magic has been that we have a great leader in Dr Shekhar Mande, the director and inspiring leader, and he's a real team builder. He got the team CSIR together. If somebody has COVID, it takes one or two days to test, but the Institute of Genomics and Integrative Biology created a quick test kit. The beauty of that is that you get to know whether you have COVID or not within just one hour. Tata Sons have partnered with them and they're going to produce this and sell at just Rs 500. National Aerospace Laboratory builds aircraft but they used their expertise to create 'SwasthVayu' that is a BiPAP (Bi-level mode), which is a non-invasive ventilator within just 36 days, responding very fast. The Central Building Research Institute created modular foldable units which can be built very quickly. In fact they created 50 labs in less than five days."
Did he see private players playing an equally responsible and a more engaging role in this current situation? "Yes," his answer is emphatic. "The PPEs that I talked about which are being exported – they were done by private sector money. Without industrial enterprises putting the products into the marketplace, it would have been difficult. For example Marico, which makes Safola and other products, has a great leader in Harsh Mariwala who created the Marico Innovation Foundation in 2003, almost 17 years ago when innovation was not a buzzword. The foundation was instrumental in helping create affordable ventilators through its innovation challenge. We were importing ventilators costing Rs 15 lakh or Rs 20 lakh, depending upon the sophistication but they were not affordable, but innovators are now making better ventilators for Indian conditions at a much cheaper cost. KPIT Technologies for example created a fantastic ventilator. So the private sector I would say has come in in a big way. I'm very proud about the way that they did – whether it was Tata or Mahindra or KPIT or Marico coming in and contributing."
We have a large pool of SMEs and MSMEs and startups. Roughly six crore. We have started a startup campaign in India. Did he think that the startups have made any difference to the challenge the current pandemic has created? Did he see any startups or SME or MSME coming and really contributing in a big way to impact the society hugely? "I'm particularly proud of how these young people responded," he answered. "For example they created the PCR diagnostic kit, RTPCR. And they did 1.2 million tests in three months time and it was three times cheaper than the standard one. In Dharavi it was important to identify high-risk patients and isolate them very quickly and treat them. This startup Pure Air developed a test kit based on artificial intelligence, where 24 abnormalities in chest x-ray could be identified within minutes. Salcit Technology used cutting-edge technology like artificial intelligence, and helped identify patients by hearing just how you cough. They were doing it already for TB and they very quickly repurposed it for COVID, particularly for asymptotic cases. What I'm most impressed with is a startup called Dozee. When we ran short of ICUs, they converted normal beds into ICUs at a cost which is 20 times cheaper.
Dr Mashelkar keeps saying that India is not a start-up nation but that it is a starting off nation and we are still learning. What can we do to become a startup nation like Israel, I ask. "First of all it is the ability to take risks," reasons Dr Mashelkar. "They look at failure as the first attempt to learn. Your best guru is your last mistake, you learn from it. Second is talent, technology and trust. It's a tripod. We have plenty of talent, we have technology but there has to be trust. For example, it used to take a couple of days to test for Dengue. When there was an outbreak in India, we decided to import test kits from South Korea. But Naveen Khanna had created something where you can see the result in 15 minutes. When the supply from South Korea did not reach us, we had to go for Naveen Khanna's kit and today he has a market share of 75 per cent because his product is good. But nobody trusted him earlier. We have to give the startups a head start within, you have to give them a chance."
Where did he think the Indian innovation ecosystem is ahead of the world, and where is it lagging? On the global innovation index, India has entered the top 50 and positioned itself at number 48. That's good news, but during the past 10 years China has risen very rapidly to number 22. What do we need to do so that Indian innovation ecosystem will be ranked among the top 10 in the world? "There are certain things you can't measure," Dr Mashelkar points out, and explains, "Usually affordability and excellence don't go together. What is affordable can't be excellent, and what is excellent can't be affordable. But India is capable of creating affordable excellence better and 10 times cheaper. Take the Mars Orbiter mission for example. We became the first nation to be successful in the very first effort. And we did it at a cost of just $74 million which was 10 times less than the US. Low cost is our specialty but unfortunately that doesn't get counted in the global innovation index. China has surged way ahead because of their investments in science and technology, their commitment. Our investments have remained as a percentage of GDP. Although in actual terms they have increased, they are almost the same as they were 20 years ago. Whereas China's investments have zoomed up dramatically. So lots of these things will have to be done in order to lift these indicators. When it comes to affordable excellence, we are at the top."
When I asked him what role could Gandhian engineering play during the current pandemic situation, Dr Mashelkar explained the concept of creating 'more for less'. "The concept means there is enough for everyone's need, but not for everyone's greed. So you have to exhaust fewer resources and create more. Secondly, the benefit of science must reach the poorest of the poor. Of course you can make profit but the primary objective is getting more from less. So innovation which belongs to Gandhian Engineering belongs to this category of affordable excellence."
On being asked for one last message for the next generation, he replied, "I will give five quick messages. The first is: aspirations are your possibilities, keep them high. Second is: there is no instant success and no substitute to hard work. Third is: you keep on knocking on the doors of opportunity and if they don't open, open your own doors. The fourth one is: purpose, perseverance and passion. And the last one. There's no limit to human imagination, there's no limit to human influence, and no limit to human achievement."
About the speaker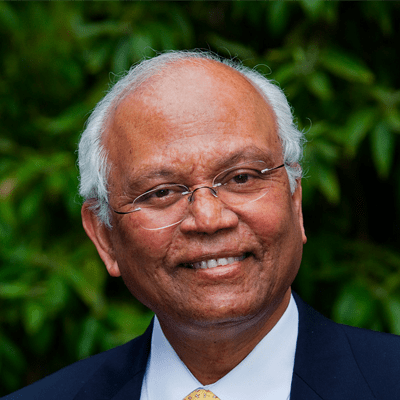 Dr R A Mashelkar
Padma Vibhushan, Indian Premier Scientist